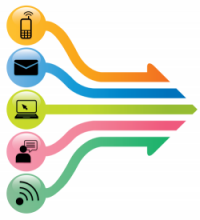 Google the term "dual channel donors" and you will get a plethora of websites stating the virtues of cultivating donors via multiple channels. Some of this information is all myth.
We've recently done several analyses on dual channel donors, and here's what we found:
They are a lot more valuable than single channel donors, but you already knew that. That's partly because by definition they are two gift donors. But even when you control for that, dual channel donors are still give more than a donor giving 2 gifts in one channel
But here's the thing, dual channel donors are as rare as unicorns. In any given year, only about 3% of your file give in two or more channels.
Most surprisingly, the year after they convert to dual channel behavior, most of these donors revert to single channel giving. And they are equally likely to be offline only giving the following year as online only.
So, rather than focusing getting donors to give in two channels, which I think is a waste of time, concentrate on making it super easy for her to give in the channel of her choice.