Here at analytical ones we have identified three key ways to grow revenue:
Win more donors
Lift the performance of the donors you already have
Keep more of the donors you already have
We talk a lot about winning, acquisition and reactivation, but we don't often talk about lifting, increasing the value of donors already on the file. So, let's talk about it!
In some recent analyses I explored what impacted donor upgrades and downgrades for donors of various values. The analysis was limited to donors who had given in both fiscal years.
My primary question: how do year over year changes in average gift and gift frequency differ for higher and lower value donors? What I found was quite interesting.
For higher value donors, an increase in gift amount was the most significant contributor to upgrades. For lower value donors, while average gift did tend to increase, an increase in gift frequency was more significant to their upgrade.
The same was true, conversely, for downgrading donors. Decreased gift amount was more closely related to downgrading high value donors than it was for lower value donors. This may mean that, to prevent downgrades, getting a donor to give an additional gift in a given year may either 1) Prevent them from downgrading or 2) Lead to a donor upgrading in value.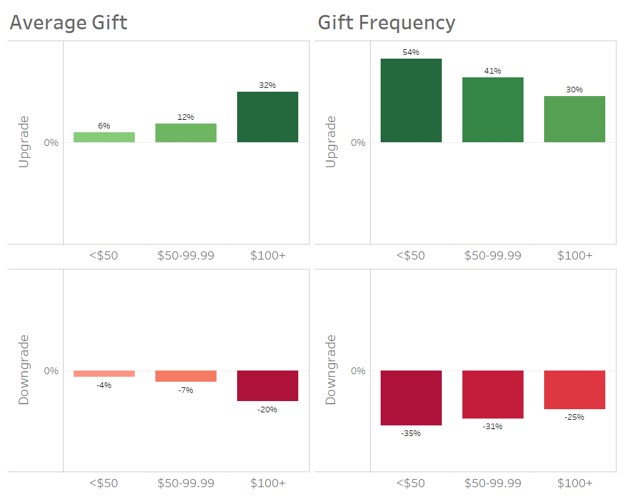 How might we offer donors of higher and lower values sufficient opportunities to upgrade? How might we combat declining gift frequency to decrease downgrade percentages? Come back next week, I have a few ideas to share.