This year, the whole Analytical Ones' team tracked our the number of emails we received from organizations, how many we received, our relationship with the organization (active donor, lapsed donor or new donor acquisition), and, when we received the email.
Here is what we found:
On average each of our team members received 26 emails from 16 organizations.
Almost half the organizations (42%) sent 2+ emails on Giving Tuesday.
Some organizations (14%) sent 3+ emails on Giving Tuesday.
A good number of the emails (44%) the team received was from organizations they were actively supporting (0-12 months); 26% of the emails came from organizations that we were lapsed (13+ months) and 30% of the emails were for new donor acquisition.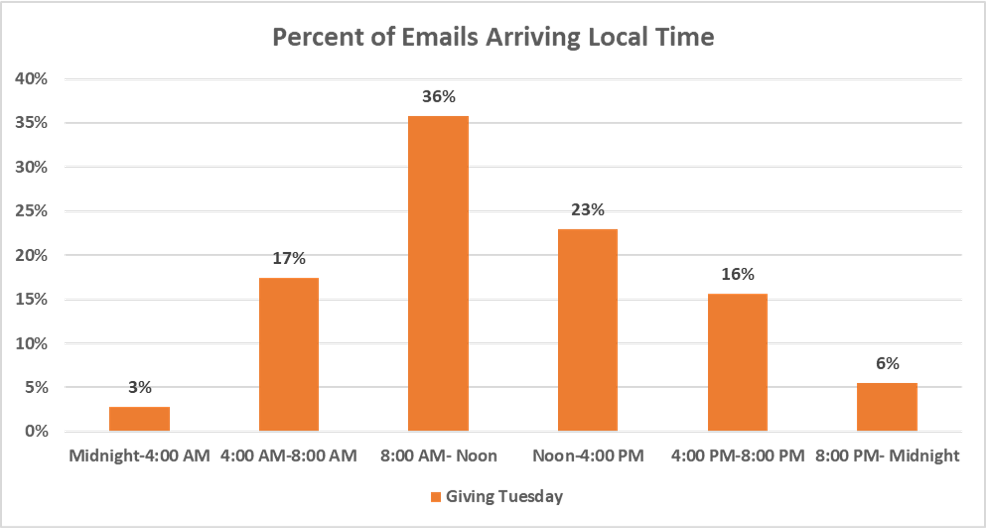 The team received emails throughout the day. But the most popular send time was between 8:00 AM – Noon local time, with 36% of the emails received in this window. Noon – 4:00 PM was the next busiest window, with 23%. 4:00 AM/PM to 8:00 AM/PM had equal quantities of emails received, while Midnight to 4:00 AM and 8:00 PM to Midnight being the least frequently used time slots.
Giving Tuesday started out as a beautiful thing. Sadly, due to the huge volume, I think it is at risk of turning into kind of a Sending SPAM Tuesday from nonprofits.