Running, walking and cycling fundraising events that feature participants who raise money from friends have been around longer than Al Gore and the internet. However, this is one area where nonprofits have effectively utilized online technology to advance event fundraising. Social media and peer-to-peer networks are a perfect fit for raising more event dollars.
This past fall I attended a conference and met Mark Becker, the Founding Partner of Cathexis Partners. Among other things, Cathexis Partners develops CRM and CMS software solutions that help nonprofits maximize their existing tools. I am very impressed with their offerings. Mark works with many organizations that do peer-to-peer fundraising events. As we began talking he identified a great need of his clients' to analyze their events with the same discipline as their direct marketing colleagues.
The DNA of direct marketers is different. They live and breathe metrics tracking retention, up-gradation and acquisition. They do this because they know the first step to improving performance is measuring performance in these three strategic areas.
So Mark challenged us to develop an affordable analysis specific for events that does just that. You can click here to download a PDF sample of the report we call the Event Growth Analysis (EGA). This analysis helps organizations identify and prioritize the strategic area they should focus upon to best improve their fundraising.
Oftentimes we can get confused with fundraising tactics. There are a zillion tactics to improve your event's fundraising performance. The key to success is using the right tactic at the right time.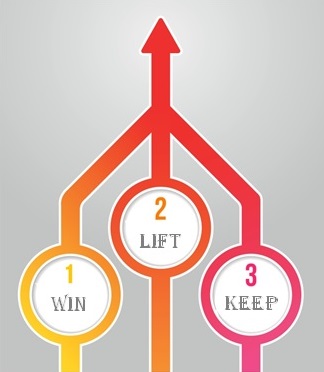 When it comes right down to it, all fundraising tactics fall under one of three critical strategies:
• Win ~ To acquire more first-time donors
• Lift ~ To motivate donors to give more
• Keep ~ To improve donor retention
Any analysis worth its salt is going to examine each of these strategic areas with the purpose of identifying the one strategy that will yield the most impact with the least amount of investment.
That's what our EGA does for event analytics.
And that's why we are excited about it. We hope you are too.