I don't know about you, but I received far fewer direct mail appeals this fall (between October 1st and December 31st.) Last year, I received an even 50 direct mail appeals. This year, I received only 30. That's a 40% decrease in volume, which is significant.
During the last week of the year, I received 99 e-mail appeals (this is the first year I have tracked this metric). Half of those came on the final two days of the year.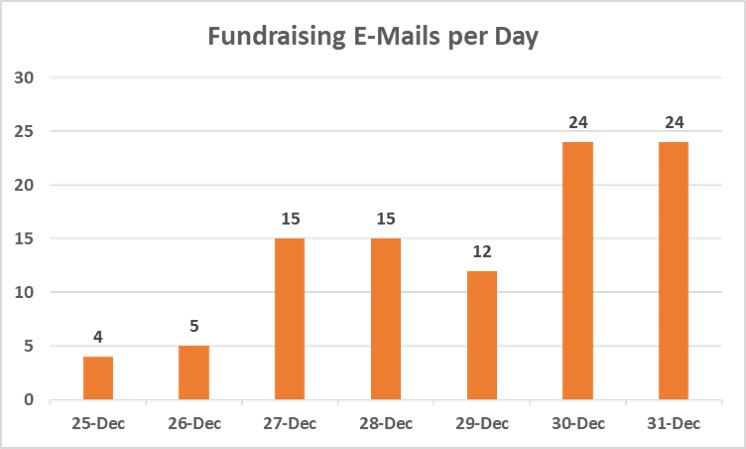 Here is a recap of the direct mail I received this year, and the insights I noted:
Of the 30 pieces of direct mail, 15 mailings were appeals from 8 organizations I have previously supported, while 15 pieces were new donor acquisition kits from 11 organizations.
Once again, I received the most pieces from The Salvation Army (7) – though four of the mailings were duplicates. I have supported The Army in two different Divisions, both of which sent me identical appeals. I contacted one Division about this issue last year, but the message must not have reached the right people.

World Vision and World Wild Life Found sent me the two catalogs I received

I did not receive any newsletters.

For acquisition, I received three premium packages. One was from St. Jude with address labels and a notepad, and I received two handbags from Doctors Without Borders.
My team and I are looking forward to analyzing all the end of year data these fall appeals have generated. We're looking forward to seeing your data, too.