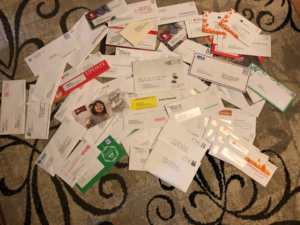 Like many of you, my mailbox is stuffed with nonprofit appeals between October 1st and December 31st. Here is a recap of the direct mail I received this year, and the insights I noted:
• I received an even 50 pieces of direct mail. Thirty-five pieces were appeals from 11 organizations I have previously supported, while 15 pieces were new donor acquisition kits.
• Sadly, direct mail with nonprofit postage arrived all on the same day of the week. It appears that the Post Office holds all of your direct mail and then efficiently bulk delivers it. This is a killer for nonprofit organizations, as their appeal must compete with all the other messages delivered that day. It may be worth testing the use of first-class postage in fourth quarter acquisition next year, to limit direct competition in the same mailbox.
• I received the most pieces from The Salvation Army (14) – though half of them were duplicates. I have supported The Army in two different Divisions, both of which sent me identical appeals. I contacted one Division about this issue last year, but the message must not have reached the right people.
• I received 7 appeals from my local PBS station.
• All the other organizations I have sent money to in the past sent me between 1 and 3 pieces of direct mail – probably reflecting my lapsed status . . .
• World Vision sent me the only two catalogs I received. The sole difference between them was the cover. It appears we are in a down cycle for catalogs, as I used to receive more of them.
• I also received just two newsletters – both from the same organization.
• For acquisition, I received three premium packages. Two were from Wounded Warriors (note card with labels), and Doctors Without Borders sent a handbag.
• Two organizations sent me over-sized acquisition kits – ACLU and Habitat for Humanity.
• Nine organizations sent standard acquisition envelopes – four were #10 size, and five were smaller.
My team and I are looking forward to analyzing all the end of year data these fall appeals have generated. We're looking forward to seeing your data, too.