It may seem like a serious "duh", but in the countless studies we have done on literally 100s of nonprofit organizations, the variable that seems to most accurately predict fundraising success is how well-known the organization is within their market.
One would think that, if this is true (and it is), organizations would be spending much more money on promoting their brands through traditional media.
The tricky part is that tracking ROI from general advertising is really tough. So, organizations avoid it.
But check out this graph we recently created for one of our clients. It shows the impact of all giving in certain markets before and after they initiated a Peer-to-Peer (P2P) fundraising event.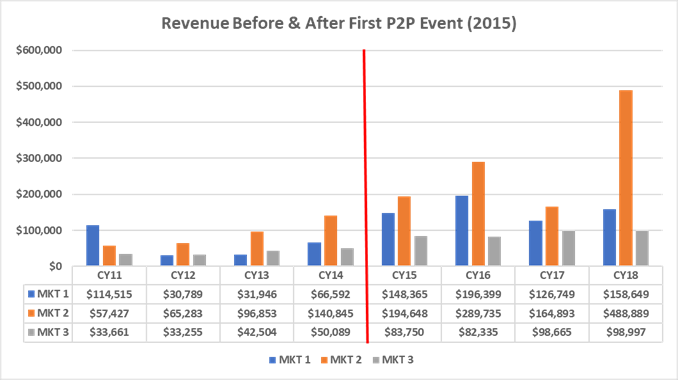 In this example, on average, revenue increased an average of 160% the 4-years after the P2P event compared to the 4-years prior to the P2P event. This revenue gain was across all giving channels, not just from the P2P event.
I believe this supports how important awareness is to your fundraising. And this demonstrates that one way to build that awareness is putting on a P2P event.