This past year, we tracked email solicitations for both Giving Tuesday and December 31 (your can read about Giving Tuesday here: https://www.analyticalones.com/giving-spam-tuesday/).
We wanted to compare these two critical days of email fundraising.
Here are some highlights:
We received fewer email solicitations on December 31 compared to Giving Tuesday (average of 15 emails to 26 emails). That was a surprise. I was sure CYE would have had a higher volume. This is another reason why data is always better than "gut" feelings.
On average, we received emails from 10 different organizations on December 31 – fewer than on Giving Tuesday (16).
One-third of the organizations on December 31 sent two emails, compared to 42% to Giving Tuesday.
Three organizations sent three emails on December 31 (14%) which was exactly the same percent that sent three emails on Giving Tuesday.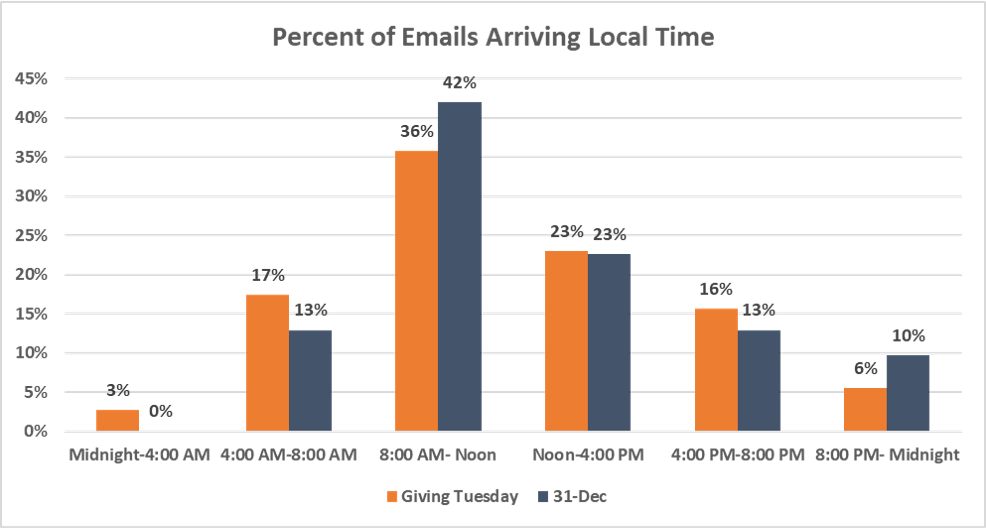 Interestingly, the time of the email deployment for December 31 was very similar to Giving Tuesday. The most popular time is 8:00 AM – Noon, once people reach their desks.
For direct response analysts, the first week of January is always like standing on the beach looking at a tsunami of data heading your way. We can't wait to measure the rest of CYE performance.